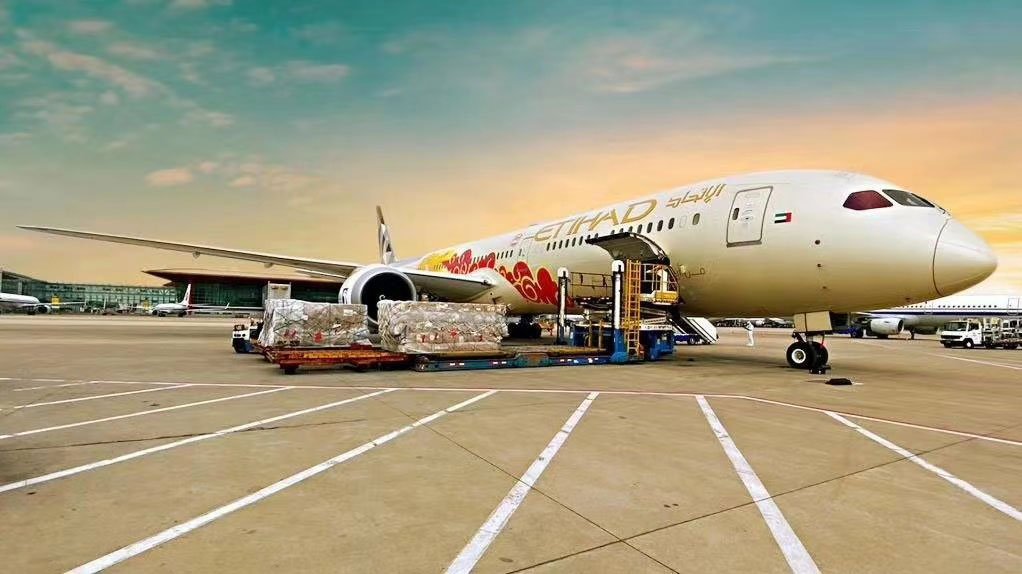 Current air freight price per kg from China to Iceland
Current air freight price per kg from China to Iceland
Airport of departure
Airport of destination
Price(RMB/KG)
Airline
Direct/transit
Flight
Transportation time(days)
CKG Chongqing Jiangbei International Airport
≥45kg
≥100kg
≥300kg
≥500kg
≥1000kg
BT /OK
KEF/Reykjavik
35.5
27
26.8
25.5
25.5
CKG-HND-HEL-RIX-KEF
Every day
4-5 days
CAN Guangzhou Baiyun International Airport
34.9
26.4
26.2
24.9
24.9
CA
CAN-PEK-KEF
Every day
5 days
HKG Hong Kong International Airport
36.8
28.3
28.1
26.8
26.8
CX
HKG-HND-KEF
Every day
7 days
ShA Shanghai Hongqiao International Airport
35
26.5
26.3
25
25
BA
PVG-HND-HEL-RIX-HAM
Every day
7 days
SZX Shenzhen Baoan International Airport
34.5
26
25.8
24.5
24.5
HU
SZX-HND-KFE
Every day
7 days
Valid date:2020.02.17 - 2020.03.17
Air freight per kg from China to Iceland is charged according to the weight of cargo, and it is provided by Goodhope Freight, form different international airports in China to Iceland. Including information like which airlines providing air cargo transport to Iceland and direct flights or not. How long does it take by air.
There are many international airports in China, and the major international airports provide air services to Europe. Iceland is a small country belonging to Europe. There is only one international airport Reykjavik International Airport. To get to know Air freight per kg from China to Iceland, we listed Air freight per kg of Chongqing Jiangbei International Airport, Guangzhou Baiyun International Airport, Hong Kong International Airport, Shanghai Hongqiao International Airport and Shenzhen Bao'an International Airport. Some goods need to be transported from China to Iceland by air. By referring to the price of these airports, we can get a general idea of the cost of air transport.
Air freight per kg from China to Iceland per kilogram is: 35.5 yuan/kg for goods more than 45 kilograms; 27.1 35.5 yuan/kg for goods over 100 kilograms; 26.8 yuan/kg for goods over 300 kilograms; and 25.5 yuan/kg for goods over 500 (including goods more than 1 ton). According to the international air transport standard, one cubic meter is equal to 167 kg. Making a comparison between the gross weight and the volume of the goods, the price will be charged according to larger one.
one case of how to calculate the air freight cost to Iceland
If 150 cases of mountaineering shoes, outdoor tents, sunglasses and climbing sticks are transported by air, the weight of single box is 26kg, and the box size is 50 * 60 * 80cm
Total volume: 36 m3
Total gross weight: 3900 kg
Volume weight: 36m3 * 167kg / m3 = 6012kg
The price of FOB Shanghai to Reykjavik airport: RMB 25 / kg
The total cost is: RMB 25 / kg * 6012kg = 150300 RMB
The gross weight is less than the volume weight, so the airlines will use the volume weight instead of 3900 kg to calculate the air transportation cost. The actual weight and box size will also be shown on the airway bill.
The annual volume of international transport between China and Iceland is not large, and there are not many airlines providing international air cargo transportation between the two countries. The main carriers are BA British Airways, BT Baltic airlines, OK Czech Airlines, CA China International Cargo Airlines and CX Cathay Pacific Airlines. Airlines. Routes often change, and the airlines will decide new flights or routes according to the cargo volume. This is very different from international express and international shipping. Generally, the service of international express companies to Iceland , such as DHL, FedEx, EMS, is fixed for one year, and the service provided by shipping companies from China to Iceland will not be cancelled.
There are no direct flights from China to Iceland, and no airlines provide direct flights to Reykjavik airport at any airport in China. Most of the airlines providing services from China to Iceland need to transit from other countries in Europe, using aircraft or trucks to transfer to the destination airport. If the goods need to be transported to Iceland, DHL international express is recommended. International express is several days faster than international air transport to Iceland.
For air cargo from China to Iceland, the most convenient way is to contact the local international air freight forwarder of the airport; for air cargo from Iceland to China, contact the international air freight forwarder of Iceland or the European Union. It is usually impossible for airlines to provide you with air services directly, and so far, most of the airline booking is through the first-level freight forwarder, excluding Apple mobile phone company, Foxconn and Huawei.